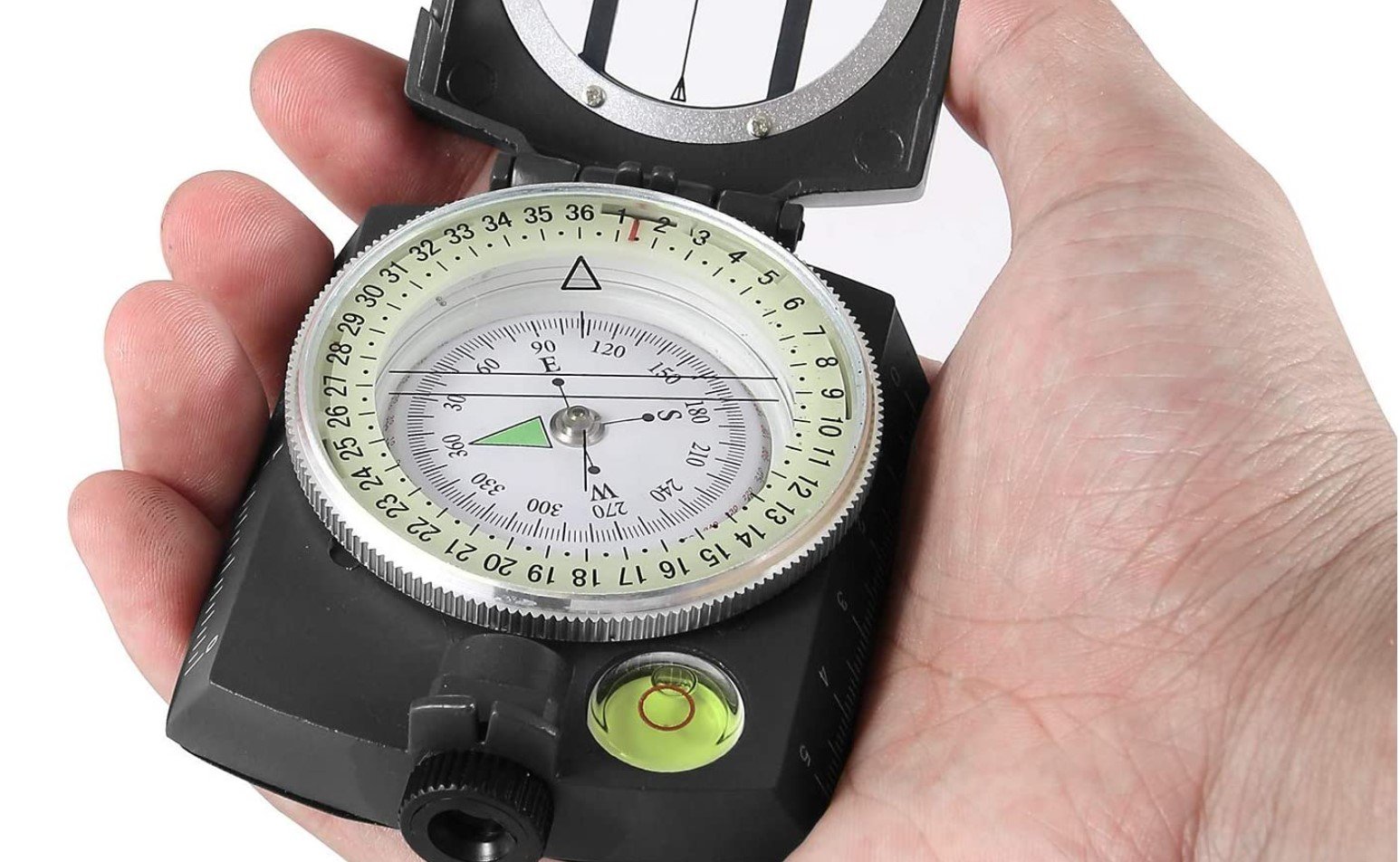 As an outdoor enthusiast, there's always the fear of getting lost while trekking or exploring dense trails. Although handheld GPS devices and smartphones are helpful, they can become non-functional due to drained batteries or lack of signal. This is where an "old-school" compass becomes crucial when you're out in nature, whether on-trail or off.
The Eyeskey EK-01 is one of the best lensatic compasses available in the market, known for its ease of use and reliability in unknown terrains. Tried and tested under extreme conditions, this compass can withstand harsh weather and environments, making it an essential tool for your adventures when paired with the right map.
Design and Quality
The Eyeskey EK-01 compass is designed for durability and accuracy. Its metal base and cover ensure years of use, making it suitable for various outdoor activities like motoring, boating, camping, mountaineering, exploring, and hunting. The compass dial has a 360-degree scale and is liquid-filled, providing stable operation. The sighting window with a reticle allows for easy aiming and reading, while the built-in level bubble improves accuracy.
Key Features and Functionality
Accurate and Easy-to-Read Bearings
The EK-01 compass features an optical eyepiece for sighting bearings with ease. With azimuth 360-degree and reversed 360-degree scales, you can quickly take bearings from you to the objects or vice versa. The compass also has a high-resolution rotating bezel ring and a built-in bubble level, ensuring accurate readings.
Nighttime Readings
The compass's north arrow and display are fluorescent, lighting up in the dark when exposed to enough light. This feature allows for clear readings in pitch-black conditions.
Additional Features
On the back of the compass, you'll find a conversion chart for angle, gradient, and distance. The rotating bezel ring also enables you to lock in your bearing, so you know you're heading in the right direction.
Comparison with Similar Products
The Eyeskey EK-01 compass stands out from its competitors due to its durability, stability, speed, and wide temperature range. Its anodized Zinc Alloy metal housing makes it resistant to harmful conditions like sand and water. The compass's liquid-filled housing and Sapphire jewel bearing allow for smooth needle movement and quick settling. It also has a working temperature range of -30°C to +60°C (-22°F to +140°F), ensuring functionality in extreme temperatures.
Pros and Cons
Pros:
Durable, waterproof, and shockproof design
Easy and accurate readings with built-in level bubble
Nighttime readability with fluorescent features
Wide temperature range for extreme conditions
Cons:
Some users may find the compass to be slightly bulky
Genuine User Experiences and Testimonials
Customers who purchased the Eyeskey EK-01 compass have praised its durability, accuracy, and ease of use. One user mentioned that their compass was nearly perfect, with maybe a half-degree difference from their reliable compass and GPS compass. Another user appreciated the compass's ruggedness and readability, making it a great value for its price point.
Tips and Tricks for Users
To get the most out of your Eyeskey EK-01 compass, make sure to cross-check its accuracy with a reliable compass or GPS device before trusting it completely. Also, keep the compass away from magnetic interference, such as electronic devices, to maintain its accuracy.
Conclusion
In conclusion, the Eyeskey EK-01 compass is a reliable and durable companion for your outdoor adventures.
Some users might find the compass to be slightly bulky, but this is a minor drawback considering its overall performance and features. The Eyeskey EK-01 compass is highly recommended for hikers, campers, and anyone who enjoys exploring the great outdoors. Its accuracy, durability, and additional features make it a must-have tool in every adventurer's toolkit. So, whether you're a seasoned explorer or just starting your outdoor journey, the Eyeskey EK-01 compass will ensure you never lose your way.